Examples of Bad Websites
There are countless examples of embarrassing website designs and development out there. These are the latest examples we have discovered. For each site below we provide a brief analysis to assist you in avoiding the same pitfalls.
After looking at the websites and critiques below, please visit our free advice area.
Help us clean up the Internet!
Metal Forming Inc.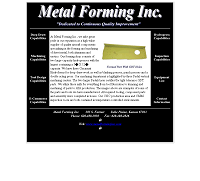 Aw, it's an old Word website. You know, the one you create in Microsoft Word, then choose 'save as web page.' We haven't seen one of these in a while.
Then again, nothing here is up-to-date. Clicking on 'E-Commerce Capabilities' we expected to find a way to buy products or services but instead found a message which includes: "Our LAN is broadband enabled, allowing us to seemlessly integrate our customer's e-commerce initiaves into our existing system." Welp. There is, though, a helpful link to the company's website on the website.
Keep submitting bad websites to us. Although they are becoming scarce there are still plenty out there.

Crime Scene Cleanup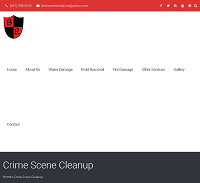 Wordpress can be an affordable way to build a website. But if you don't know how to set it up, you can end up with a website that looks like this one.
Did anything catch your eye about this website, other than the lack of visible content? Look at the email address in the header. It's bad form to use an email address that is not @yourdomain. Plus...yahoo?

Pittsburgh Psychic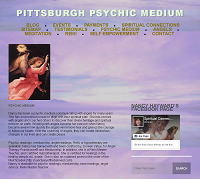 Quick quiz - what are the most important pieces of information to display at a glance on your website?
1. What you provide or do
2. Contact information
3. Location
We can see Pittsburgh, an angel, and...heaven?
A true psychic would know ahead of time that their website was going to appear on boogersite.com, and would've improved it.

Silver Lake Research Company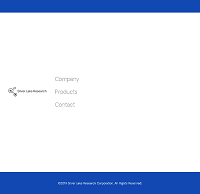 Well this is boring.
Are you still reading? Alright, let's break this down. There's a landing page with really nothing on it. Let's click on each of the three choices.
Company: a page of text.
Products: five tiny logos, each one links to an external site.
Contact: two email addresses, a phone number and a fax number.
That is all, you may go.

Roofblok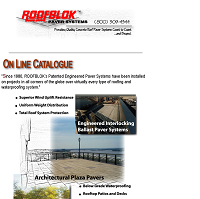 It doesn't look terrible, does it? WELL IT SHOULD. It's an old FrontPage site, made in 2006. Nearly the entire site is an image, and good luck figuring out where the company IS considering the only clue is a P.O. box in Massachusetts which is the National Sales Office.
How about some navigation? Some photos of the company's work? Considering their products have "been installed on projects in all corners of the globe?"

The first words on the landing page are "On Line Catalogue" but nope - it's not a link and there's no 'catalogue' to be found. Bad website.