Examples of Bad Websites
There are countless examples of embarrassing website designs and development out there. These are the latest examples we have discovered. For each site below we provide a brief analysis to assist you in avoiding the same pitfalls.
After looking at the websites and critiques below, please visit our free advice area.
Help us clean up the Internet!
Keener Rubber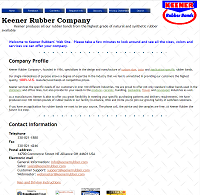 Seeing that this bad website was 'created and managed with Microsoft FrontPage' tells you that the technology at this company is O-L-D. For cripes' sake, it's right there, proudly displayed on the landing page! It's not going to get better from there, we'll wager.
Rudimentary and not secure, there's a comical statement that "This site has security measures in place to protect the loss, misuse and alteration of the information under our control." No it doesn't.
The nav menu at the top doesn't match the one at the bottom, and there is not ONE picture on this site, unless you count the pixelated logo in the 'wrong' corner.

Display Racks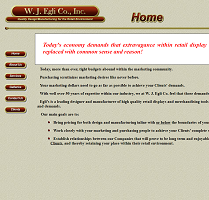 Your company might be the best at producing whatever it is that you do. But when your website doesn't show that at ALL on the landing page, who would know? When the images you DO have are small, and named things like 'General' or 'Image' or 'Standard' - that doesn't help search engines find what you make, either. How is anyone going to know?
A bad website can hurt your business. If it looks outdated, or unkempt, anyone who happens upon it somehow could assume you aren't even in business anymore.

M&M Cranes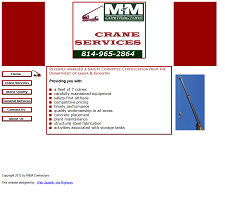 For an old FrontPage site, it's not terrible. It's old, unsecure, and incorporates no design whatsoever. Today's bad website is perhaps like an old dog tied out in the backyard by its doghouse. You were excited to get it at first, and it was better than no dog at all, right? But you can't neglect it.
IF you're going to have a website, you may as well have a GOOD one. A website should describe your products and services, show pricing (unless there's a good reason not to) and have plenty of photos to show people what you have done.
This old dog is 10 years old, but looks much older.

Suburban Steel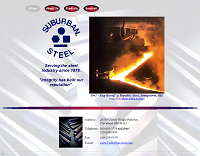 Creating a website in Microsoft Word then saving it as a 'web page' might have not been a terrible idea to get yourself a quick and temporary website 20 years ago. For that 'starter' website to still be active today as the face of your company? NO.
Today's bad website is an artifact of those times. The blurred, pixelated logo and utter lack of design make you wonder why - in all this time - hasn't a newer site been developed?
If you were online, seeking the types of products or services this company offers - would you spend more than a few seconds on this outdated website? Shrug. Probably not. Maybe they're not even in business any longer, yet prepaid for decades of web hosting.

Argyle Supply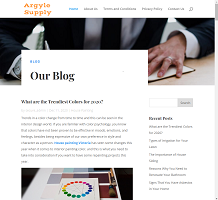 At some point, Argyle Supply was a website for a plumbing supply business. Made with WordPress, it was taken over by the 'geniuses' who post random blogs about unrelated things. If anyone knows how this is a money-maker, or why it's done, please let us know. WordPress has gotten better, but at one point it was ripe for exploits.
Links to everything under the sun, and hovering over contact info shows that "earl campbell meats" is going to be where the link goes. A link in one blog goes to house painters in British Columbia. Another link goes to a mesothelioma attorney. ???
Bad websites are getting harder to find, because businesses realize there is value in hiring professional web developers. You should too.